FRP Structural Shapes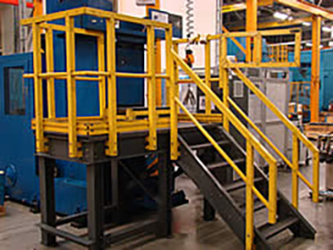 Fiberglass Structural Shapes are perfect when you need to replace wood, steel or aluminum with a strong, lightweight, long-lasting option. We stock one of the industry's most comprehensive lines of FRP profiles. They are manufactured in both vinyl ester (standard color is beige) and polyester (standard color is dark gray). Embedment angles are only manufactured in vinyl ester and standard in dark gray to compliment the color of concrete.
Benefits of Fiberglass Structural Shapes
Will not Rot, Rust or Corrode: Our fiberglass reinforced structural shapes offer the strength of traditional building materials with a longer life cycle.
Will not Shrink, Swell, Warp or Bow: Hot or cold, wet or dry, our FRP structural members remain dimensionally stable.
Easy, Quick Installation: Fiberglass structural shapes can be cut, drilled and assembled using standard tools.
Built for Safety: FRP grating and decking are available with safe, nonslip surfaces. This is especially useful to prevent slips and falls in wet or oily conditions. As well as excellent cushioning to support workers with less strain and fatigue.
Options and Applications: Options include NSF certification, UV inhibitors, fire-retardant resin and more.
Click on the product below for Specifications

Pultruded Fiberglass Structural Shapes
Fiberglass reinforced structural shapes support a wide range of uses from primary framing in buildings to support structures for walkways and catwalks, plus ladders, steps and many more. Corrosion resistant structural shapes are required in many industries, which is why FRP makes a great choice for almost any use case.
In industries where strength is the most important characteristics, companies consistently turn to pultruded fiberglass structural shapes. FRP offers one of the highest load strengths and superior stiffness compared to other common materials and pultruded FRP materials have the highest strength-to-weight ratio.
Pultruded fiberglass structural shapes also are compatible with a variety of coatings and epoxies that increase worker safety. We typically suggest a coarse epoxy grit that's bonded to the cross bars as well as bearing bars.
Pultruded grating is available in 1", 1-1/4" and 1-1/2" depths in an I-bar configuration with 40%, 50% and 60% open areas. 2" depth T-bar configuration with 33% or 50% open area. Structural pultrusions are also able to better withstand repeat impacts and cyclic loadings, from carriers and workers to windstorms and heavy rains out on the ocean.
Marco Fiberglass has been customizing pultruded FRP/fiberglass structural shapes for nearly 25 years serving a variety of industries. We hold the industry's top certifications including ISO 9001:2008 and many application-specific certifications as well. You can learn about the specific benefits FRP structural shapes offer your next job by calling us at 800-200-3047.
---
Get more information about Fiberglass FRP Structural Shapes
Call Us Today!
---