FRP Ladder Systems
FRP ladder systems are used in chemical plants and other corrosive environments because the treated fiberglass is able to withstand a variety of exposures and impacts common in industrial settings.
They are also used in cases where ladder systems are immersed in liquids, like pools, deep wells, etc. iGRID ladder system is designed as per the OSHA 1910.27 standard. Often these FRP ladders are chosen to conform with OSHA regulations, or to prevent the electrical conductivity issues present in aluminum and steel ladders.
All of your OSHA-regulated FRP ladders not only adhere to the specific material, rung length and spacing, and cage requirements, but all come in OSHA's safety yellow.
The picture below shows ladders mounted to floor. We also provide ladders only connected to the wall. Rungs of our ladders are 1″ dia. solid gritted rod or 1.25″ dia. fluted tube.
Fiberglass Ladder Systems
Marco Fiberglass is an FRP ladder manufacturer who has been creating ladders for a wide range of industries, factories, construction sites, rigs and more. Our structural fiberglass ladder systems are ideal for catwalks and roof access, moving across tanks, moving between buildings and more.
Most of our fiberglass ladder systems are created through with pultruded FRP in order to provide you with significant grip on each rung.
Fiberglass ladders are designed to be completely flush so there are no joints, welding locations, screws or other protrusions that can catch employee hands, clothes, tools and more. We design with safety in mind and can include every precaution and safety tool to keep your workers secure as they operate.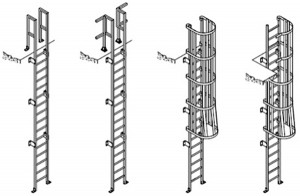 Custom Length Ladders Available
Creating custom length ladders as part of a project? Get a quick quote by sending an email to sales@marcospecialtysteel.com.
Marco Fiberglass has extensive experience building custom length ladders and structural fiberglass ladders of different shapes because almost every industry has its unique location where workers need added safety. Be sure to ask our experts about the many benefits you can achieve including added protection from cages, reduced maintenance through proper composite selection and lightweight units that can be easily moved and mounted by small teams.
---
Get more information about FRP Ladder Systems
Call Us Today!
---