Constructing buildings and structures for harsh applications can be a difficult task by itself. Not only must you design a building safe for your workers, but you also must consider how your building materials will handle your products. Many metals are subject to corrosion from water and chemicals. Some, like wood, are even more susceptible. These factors compound when building structures in harsh environments like the ocean, where seawater can eat away at your structure over time.
However, there are alternatives to traditional building materials, ones that can stand up to the harshest chemicals and the most unforgiving environments. The most successful material in these conditions is fiberglass reinforced plastic, or FRP. This material is as strong as steel, handling structures of any size, and resists even the harshest chemicals and environments.
It can seem impossible that any material, especially a plastic, can claim to provide these incredible benefits, especially when stacked up against steel. To help you understand the unique benefits of fiberglass reinforced plastic and how it can benefit your next project, we've outlined the particular features fiberglass reinforced plastic, the advantages it offers over a variety of industrial materials and the various applications it's suited for.
About Fiberglass Reinforced Plastic
What is FRP grating? Fiberglass reinforced plastic grating, also known as FRP or glass reinforced plastic grating, is a generic term for a family of uniquely versatile reinforced plastics. These composites feature in numerous industries as corrosion-resistant construction and fabrication materials. These materials are especially useful in industries where structures are exposed to corrosive chemicals or harsh seawater environments.
Since its introduction in the 1930s as a corrosion-resistant alternative for industrial metals and woods, FRP has become an incredibly common material in structural engineering, especially for chemical plants and offshore structures. This material stands up to nearly any environment, chemical or application where wood or metal would normally corrode, making it an extremely versatile and useful material.
This corrosion resistance is primarily due to the unique design of FRP. Essentially, FRP consists of fiberglass reinforcement within a polymer matrix. The glass fiber provides strength and stiffness, and can be arranged in multiple directions to provide stability in any direction. The resin, on the other hand, provides the shape of the FRP and protects the fibers from fracture or corrosion. This resin consists of with a thermoset plastic, which starts out as a liquid polymer and then converts to a solid during the molding process. After the molding process is complete and the resin becomes solid around the glass fibers, it's impossible to melt or reshape the material.
Benefits of FRP Grating
The unique components and manufacturing process of FRP lends numerous qualities to this composite material, setting it apart from other industrial materials. These qualities come with numerous benefits, including, but not limited to, the following:
High Strength: FRP composites are very effective in the creation of high strength components. These materials can be designed to provide a variety of mechanical properties, including tensile, flexural, impact and compressive strengths. The designer can even specify the reinforcement orientation needed for the final application and have an FRP composite fabricated perfectly suited to the project.
Impact Resistance: FRP is a rigid material that doesn't dent easily when impacted and is resistant to shattering. This means FRP can stand up to a great deal of stress and force without buckling or breaking. Manufactures improve upon this strength by adding directional glass fiber components to the material.
Slip Resistance: FRP is much more slip resistant than metal, and can be textured to improve traction for workers standing upon it. This improves the safety of workers, especially on particularly damp surface applications like offshore structures.
Corrosion Resistance: Many materials corrode, rust or decay over time when exposed to water, insects, mold or other environmental factors. FRP is resistant to all of these. FRP is also resistant to a number of corrosive chemicals, including chlorine. For the factors it's not naturally resistant against, FRP can be modified to provide greater long-term resistance — these modifications can make FRP resistant to almost any chemical or temperature environment.
Thermal Resistance: Manufactures can design FRP composite parts specifically for heat-resistant applications, making them suitable for applications in elevated temperature environments. They can also be modified for use in environments where the temperature cycles, handling changes of more than 150°F for extended periods with no adverse effects.
Lightweight: FRP has a higher specific strength than most industrial materials, meaning it delivers more strength per unit than other materials. This means FRP is much lighter than most industrial metals, while simultaneously maintaining strength similar to steel. It's about two-thirds the weight of aluminum and a quarter of the weight of steel.
Long-lasting: Regardless of the weight of the load or the harshness of the environment, FRP will last for years. There are case studies of fiberglass ductwork lasting for over twenty-five years in chemical manufacturing plants, under constant exposure to harsh chemical environments twenty-four hours a day, seven days a week. Many fiberglass reinforced plastic structures have lasted even longer than these ducts — fifty years and counting. When compared to stainless steel, FRP lasts five to ten times longer, making it a better long-term investment.
Easy to Install: Because of its light weight, FRP is much easier to handle and install during construction. This means you'll complete construction faster and with fewer problems than with other industrial materials. It also means that if an FRP structure needs replacing, it can be done much more quickly than with another material.
High Dielectric Strength: FRP is an excellent electrical insulator, meaning that it's an exceptional material for electrical applications. The material is also non-sparking, reducing the risk of electrical shock or shorts.
Design Flexibility: Designers can mold FRP into complex shapes more easily than other materials, allowing more architectural freedom. This is an important aspect for specialty designs. Manufactures can also add colorants to the material to make it any color desired. This is especially useful for applications where the material must stand out from the surrounding environment as a safety measure.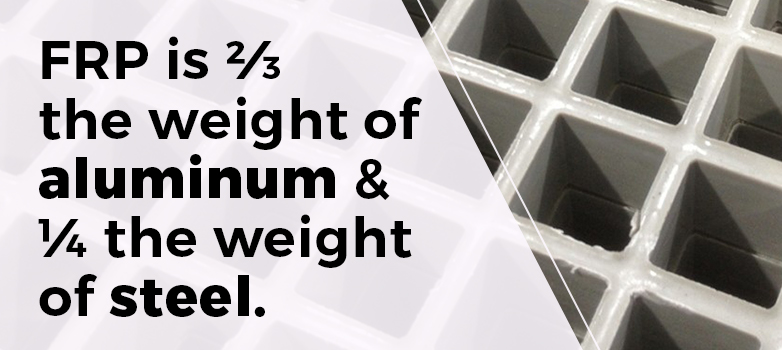 FRP Considerations
While FRP is an extremely useful and beneficial material when compared to others, there are a few aspects of the material to keep in mind when designing projects. Some of these considerations include:
Tools: FRP requires different saw blades and drill bits than those used with wood, steel or other metals. Though easier to work with in the long run, FRP structures may require you to purchase specialty tools, presenting more of an initial investment.
Flexibility: FRP is a much more flexible material than wood or steel. You must weigh this factor while designing the project in order to avoid structural failures and other design flaws.
Heat: When using FRP in particularly hot situations, the material by itself will decrease in strength and become more flexible. Heat resistance can be improved by adding coatings or by altering the polymer used in the material.
FRP Compared to Other Industrial Materials
Despite the few necessary considerations, FRP is an extremely beneficial material, ideal for numerous applications. This is especially true when compared to other industrial materials like steel, aluminum, wood and nickel alloys.
To help visualize the benefits FRP offers over the alternatives, we've compared FRP to some of the more common industrial building materials on the market today, including the following:
FRP Compared to Steel: The big advantage FRP has over steel is it's much less likely to corrode when subjected to seawater and corrosive chemicals. Unlike steel, FRP is resistant to water and numerous chemical and environmental factors, and can even be modified to resist a wider variety of chemicals. It lasts five to ten times longer than steel in corrosive environments, making it a better long-term investment than steel for aquatic or chemical applications. Additionally, FRP is much easier to install and construct with than steel due to its lighter weight — FRP is a quarter the weight of steel on average. It's also much more easily shaped into a wider variety of forms than steel, and can be colored without the need for specialty paints.On the other hand, steel tends to be less expensive than FRP, especially specialty varieties of FRP, as it's a much more common building material. Though it tends to last a shorter amount of time, steel has a lower startup cost, which can be an attractive option for budget-minded companies.
FRP Compared to Aluminum: One of the more important advantages FRP has over aluminum is the fact that FRP grating is more dent-resistant than aluminum. In fact, FRP will retain its shape better than most metals. Additionally, it's resistant to a wider variety of chemicals than aluminum, and can be modified to resist even more. FRP is also much stronger than aluminum and can handle much larger loads, despite being two-thirds the weight of aluminum. Additionally, FRP is easy to shape into a wider variety of shapes than aluminum.However, aluminum is a much cheaper material than FRP, especially custom varieties of FRP. Builders are also more familiar with working with aluminum than FRP, meaning it can be cheaper to install.
FRP Compared to Wood: While FRP is more expensive than wood, it does provide a number of distinct advantages over this traditional material. FRP is resistant to warping, rotting and decay from moisture or exposure to water. It's also resistant to insect damage, unlike many industrial woods. Additionally, FRP will not splinter upon impact, and can handle a greater impact than wood.If there are special design or aesthetic components to a project, FRP provides numerous additional advantages over wood. Manufactures can form it into a wider variety of shapes than wood and it can take on a wider variety of colors without the need for paint. If aesthetics are a concern for a project, FRP offers a viable alternative, as it can reproduce the look and feel of wood, achieving the same aesthetic without cutting down a single tree. This makes FRP a much more environmentally friendly option than wood.
FRP Compared to Nickel Alloys: Nickel alloys are another common construction material, but they have many of the same shortcomings as steel. Nickel alloys are more expensive on average than FRP, but they have the same corrosion problems as stainless steel, making them less cost-effective than FRP. They are also less customizable than FRP, with the same form limitations as steel or aluminum.
FRP Grating Applications
FRP is often used as a reinforcement or strengthening material both internally and externally on numerous construction projects, especially those exposed to harsh environments. Some of the more common applications for FRP construction components include the following:
Offshore Drilling Construction: FRP is an especially useful material in marine construction. FRP has largely replaced traditional wood and steel building methods due to its better corrosion and damage resistance. FRP's incredible strength also means that it can be used for massive structures with impressive load-bearing capabilities.
Water Treatment Plants: Water treatment plants must be made of water and chemical resistant materials in order to handle exposure to both. Many water treatment plants use fiberglass for piping, and FRP offers the same benefits with a longer lifespan.
Oil and Gas Plants and Pipes: With its excellent resistance to corrosion and chemical damage, oil and gas plants often use FRP in the construction of pipe work, fume scrubbers and chemical storage vessels. FRP can also be modified with vinyl ester and epoxy vinyl ester resins to improve chemical resistance.
Where the elements would likely affect or destroy steel, wood, aluminum or nickel alloys, fiberglass reinforced plastic can offer a corrosion-resistant, long-term solution.
Your FRP Grating Supplier
If you or your company is interested in using FRP in your next construction project, you need a professional fabricator who can not only provide you with the materials, but can also give you advice on what type of FRP to use. This is why you need to contact Marco Fiberglass.
For 25 years, we at Marco Fiberglass have committed ourselves to excellence and quality, offering only the highest quality, most reliable products with the fastest turnaround. Located in Houston, Texas, Marco Fiberglass is a fabricator of fiberglass grating located in the home of the largest petrochemical complex in the world. We are uniquely qualified and capable of handling the largest and most complex projects, with a 35,000 square foot warehouse and an in-house fabrication department. Our knowledgeable personnel works with engineers, designers, architects and maintenance personnel on a daily basis, quickly and effectively finding solutions for any application or need.
Do you want to learn more about fiberglass reinforced plastics and how they can be applied to your next project? Contact us today to speak with one of our knowledgeable sales professionals!